Updated Neighbourhood Watch Messages
The Parish Council has been advised by West Yorkshire Police on the recent crime incidents in the village, including the burglaries at the primary school and golf club.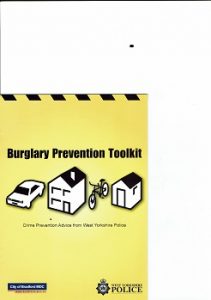 There are leaflets available in the Old School giving general information on how to protect your properties and possessions, but we have heard that criminals are specifically targeting:
Motorbikes: be careful if you have the Stava cycling app. – use the privacy setting, otherwise bikes can be tracked back to your home
Burglaries from houses: do not leave your car keys where they can be stolen. Cars parked outside with Europrofile locks are being targeted as they are easily disabled. (Check the police website for advice on the best locks to get.)
Car theft – owners of  Audi and VW cars need to be extra careful as thieves are targeting them for the sat navs.
Cold Calling Zones – If you receive a cold caller and you live in a no cold calling zone then ask them for their name and what business they are from (Ideally get their business card) and then ring 101 to report them.
Check the police website www.westyorkshire.police.uk/  Click on My Neighbourhood for more information
Neighbourhood Watch – Ring 101 to report anything suspicious