DURING THE 2021 LOCKDOWN RESTRICTIONS, THE LIBRARY IS OPEN FOR CLICK & COLLECT ONLY FOR 2 HOURS ON TUESDAY MORNINGS FROM 9.30AM AND FOR ONE HOUR ON THURSDAY AT 2PM.
Addingham Community Library, located on the ground floor of the Old School on Main St, is normally open at the following times:
Tuesday 9.30am – 12 noon
Thursday 2pm – 4pm
As well as offering a good selection of fiction and non-fiction books to borrow, the library has a small IT suite and runs free training sessions in computing and in archive research of online records (by arrangement only; donations welcome).
The library also offers public information and research facilities for the Addingham Heritage Archive.
The library is run entirely by volunteers, and is a registered charity.
Contact 01943 436230 for details.
Free WiFi available in the Old School
IN THE EVENT OF ANY EMERGENCY OR PROBLEMS WITH THE ALARM, PLEASE CONTACT THE FOLLOWING MOBILE NUMBER:
07751 189334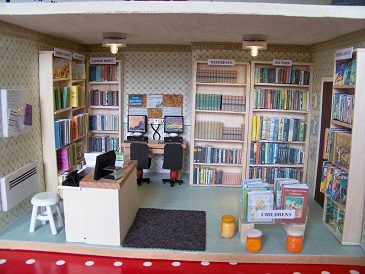 Featuring the miniature library, a tiny replica of the real one, created by Wendy Green