Hub welcomes younger visitors!
Visitor numbers to the Hub are increasing, and the new cosy corner seems popular with our younger visitors too!
Look out for information on What's On at the Hub – our displays and exhibitions in August include photos of the launch event, and a display of pictures and articles celebrating Garden & Allotment Shows over the years.  You can also find out what's on elsewhere in the village – our new community noticeboard advertises forthcoming events and village news.
Drop in and have a look – and bring the kids!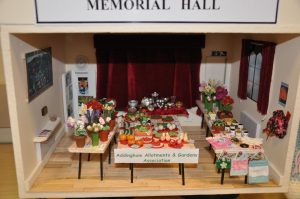 Wendy's model of a recent show is on display in the Hub.